N
E
W
S


Mentorship update and interview, Strombo apperance tomorrow, and Twitter
________ August 26, 2012

Hope your summer's wrapping up nicely!

- Globe and Mail sat down with Eugene and his latest mentoree for the Film Lab, Daniel Perlmutter. Check out the interview and video clip here.

- Eugene will be a guest tomorrow (Monday, 8/27) on George Stroumboulopoulos (CBC). Last time, they posted the interview online shortly after, so I'm guessing that'll happen again.

- Despite what Eugene has said in earlier months about the silliness of Twitter, it appears he's set up a Twitter page. It hasn't been authenticated by Twitter and there aren't many posts, but it seems pretty legit.



---

Garber's opening night and Guest's new HBO project
________ August 16, 2012

- Eugene, along with other celebrity friends, visited opening night of Victor Garber's stint on 54 Below. There's another performance on Monday, August 20 at 7 PM.



- Exciting news from Christopher Guest!! HBO (and BBC2 in the UK) will be airing about eight episodes of the Karen Murphy-produced show, "Family Tree." It'll star Chris O'Dowd, the enjoyable "nice guy" from Bridesmaids. The synopsis:

"Written and created by Guest and frequent collaborator Jim Piddock and to be be directed by Guest, Family Tree is a documentary-style comedy in the style of Christopher Guest's films, which follows the world and journey of 30-year-old Tom Chadwick (O'Dowd). Having recently lost his job and girlfriend, Tom has a rather unsure sense of his own identity. But when he inherits a mysterious box of belongings from a great aunt that he never met, he starts investigating his family lineage and uncovers a whole world of unusual stories and characters and a growing sense of who he is and who his real family are. Like he does with his movies, Guest will appear on the show along with Piddock..."

No word on when the show premieres. More info on "Family Tree" here:
- Variety
- Deadline / Hollywood


Witness Protection interviews and promos
________ July 1, 2012

- Eugene's appearance on MSNBC's "Morning Joe"

- Appearance on The Rhode Show

- Interview with the Witness cast from shockya.com

- Interview on TODAY

- Interview with Eugene from NPR, includes this bit:
"Believe me, I've done movies that are just the lowest of the low. I've done movies that are really done without a hell of a lot of intelligence going on. But for me, doing what I do in the movie, if I do it with as much intelligence as I can muster — I mean, cheap is cheap and funny is funny — but if I can make him credible in my own mind, then I'm making him credible to other people, and that's as good as I can do."


Witness Protection is officially out in theaters!


Witness Protection out this week, Reunion interviews, and (lack of) Guest updates
________ June 24, 2012

-What a quick turn-around...filming started in March, and Tyler Perry's Madea's Witness Protection is out in theatres this week, Friday, June 29th! Watch a live-stream of the red carpet premiere on BET.com tomorrow, Monday the 25th at 6:30 pm EST.

UPDATE: Eugene will ring the Opening Bell for NASDAQ in NYC, around 9 AM on Tuesday, June 26th! Details from MarketWatch.

Recent interview on "CBS This Morning:"



-On May 22nd, Eugene spoke at the commencement for graduates of Canada's Dalhousie University, from where his daughter graduated a few years back. A review from Herald News here.

-Eugene will mentor Toronto-based writer and filmmaker Daniel Perlmutter as part of the 2012 Governor General's Performing Arts Awards Mentorship Program. More details from OttawaStart here.

-Amongst the myriad of pre-American Reunion interviews done (including interviews from Movies Ireland, Dublin's 98FM, and The Guardian), one from Movie Fanatic asked the following:

Now that this reunion is over, will there be any reunion anytime soon of the Christopher Guest troupe in a new full-length film comedy?

"Well, we had a little reunion at the Oscars," Levy proudly states. "But, to answer that question, there's nothing on the horizon. We really didn't want to do another movie that's a cookie-cutter movie, where you've got the same kind of style, but you just change the subject. Everybody is doing that fake documentary style now. Even TV shows are using that fake documentary style. So, there's nothing novel about that, anymore. And we haven't really hit on an idea that moves us and that we both agree on, but we're always talking."

Things are at a stand-still with the Guest crew, sounds like. *sigh*

-A great Studio Q appearance.

-And in case you missed it, you can watch Eugene's awesome Passover visit to "Late Night with Jimmy Fallon" thanks to a link from Jewcy.


Academy Awards cameo, Gilda, Tyler Perry casting, and movie updates
________ March 9, 2012


Eugene and many from the Guest crew starred as focus group members for "The Wizard of Oz" in this fantastic video from this year's Academy Awards.
- Monkeys!

It's been announced that Eugene will star in the Tyler Perry movie, Madea's Witness Protection, currently being filmed in Atlanta, GA. "Levy will play a man who, after his investment company goes belly up due to embezzling, is put in witness protection with his family, which is forced to move from a wealthy Connecticut neighborhood to Madea's home in the South." More below:
- Hollywood Reporter

Eugene participated once more in the annual "It's Always Something" benefit for Gilda's Club, as well as the premiere of a new run of "Godspell," the show that originally brought Eugene and Gilda together.
- TheStar.com
- Broadway World
- Broadway.com


Goon is released in U.S. theaters on March 30th. More below:
- PCU in Portage
- Pics from the movie's NY premiere
- Interview with star Liev Schreiber
- Risque movie posters cause controversy!
- Interview with director Michael Dowse
- Tops Canadian box office opening weekend
- Interview with star Seann William Scott (lots of Eugene talk!)
- Interview with Jay Baruchel

American Reunion is released in the U.S. on April 6th.
- Good times at the Australian premiere: pics and info from UKPA, The Sun, and Celebrity-Gossip.net.

And....
- Sign the petition for an SCTV statue in Edmonton! No, really!

UPDATE: A Melbourne radio station posted a great interview with Eugene Levy (and singer Pieta Brown); they discuss the 'American' series, improv acting, and Eugene's secret wish to be a rock star. A nice listen!


Trailers and updates for Goon and Pie, Order of Canada honor
________ Nov. 5, 2011

Lots of Eugene's latest movie stuff floating around on the interwebs these days...check it out!

Goon:
- Theatre release date set for March 30, 2012. Official website and official Facebook page.
- Trailer video
- Comprehensive review from collider.com

American Reunion:
- Official website
- "Levy does cite one downside with being associated with Pie. 'It doesn't happen quite as much now, but 10 years ago, at every wedding I attended, they would bring a pie to the table and stand back to wait for my shocked reaction.' Besides, he didn't think pie was the best baked-good choice for Biggs' infamous scene anyway. Says Levy, 'A Bundt cake made more sense to me.'" - from usatoday.com, featured pics from the set as well




- Eugene was awarded the rank of member in the Order of Canada on Nov. 4th. A great video interview if you follow that link!
- BONUS!: Watch the 5 minute video, "Congratulations, Mr. Levy," played when Eugene won the Governor General's award in 2008.

- Backstage interview and photos taken during Eugene's visit to "Conversations on the Green" on Oct. 24th.


"Most embarassing dad" and Reunion set pics
________ June 23, 2011

- Eugene was voted the "most embarassing film dad" on a poll by LoveFilm, based on his work in the Pie movies.

- New set pics from Reunion here.


Spring updates re-cap
________ June 4, 2011

I missed you! Here are some updates on Eugene's latest activites.

Goon is wrapped and in post-production stage.

On April 11th, Eugene was featured as the 2011 Fiedler Hillel speaker at Northwestern University to discuss his career and culture.
- dailynorthwestern.com



On May 9th, Tom Hanks and Rita Wilson co-chaired the "Simply Shakespeare" event at UCLA to benefit the Shakespeare Center of Los Angeles. A slew of celebrities, including Eugene and Martin Short, did a reading of 'The Merry Wives of Windsor.'
- broadwayworld.com
- Fun pictures from theatermania.com




American Reunion, the first in-theater Pie installment since American Wedding, has started production and is slated for release on April 6, 2012. It sounds like the whole gang from the originals has agreed to join back for the new film, including Eugene.
- Plot details (spoilers) at whatsplaying.com
- News from the set at cinemablend.com
- Alyson Hannigan interview from stuff.co.nz

According to Variety, Eugene is to be honored by the Banff World Media Festival, running June 12-15, with its Award of Excellence. He'll give a masterclass during the festival.

From toronotlife.com comes news of Eugene's inclusion in Toronto's Harold Green Jewish Theatre Company lineup: "Complementing the theatrical lineup is the company's Conversations on the Green series—think of it as a Jewish version of Inside the Actors Studio. Hosted by Ralph Benmergui, the series will feature tête-à-têtes with [Marion] Ross, comedian Levy, former Jays owner and politician Paul Godfrey and diplomat Stephen Lewis." Eugene's session is scheduled for October 24th.


Lots of good Goon stuff and a no-go on Gnomeo and new Guest
________ February 5, 2011

So...apparently Eugene is NOT a voice in this month's release, Gnomeo & Juliet. I'd been wondering since virtually nothing was said connecting Eugene to the project after he announced it, and according to IMDB, Jim Cummings is voicing the flamingo. Oh well!

Goon seems to have crazy good kharma going for it. Read on!
- Portage reaps the benefits of the movie's filming (The Daily Graphic)
- Stars Baruchel and Pill have found love (CTV)
- Local artist and his art featured in the movie (Winnipeg Free Press)
- More about the movie and Doug Smith's story:
Uptown
The Express
PatriotLedger.com
- UPDATE (2/20/11): A cool interview with Doug Smith from the New Englad Hockey Journal is here.

Also, Michael McKean posted a while back that the new Guest movie was a false rumor. Back to waiting.


Goon stars interviewed in Portage
________ November 20, 2010



Eugene Levy interviewed by Golden West's Gabrielle Ogilvie c/o PortageOnline.com

A neat little update about a Portage interview during Goon filming is on PortageOnline.com. Some nice photos of Goon stars and Golden West staff members!


Goon and Gnomeo posters and stills, Punctured still alive?
________ November 14, 2010

- New posters for both Goon and Gnomeo & Juliet are out, along with some stills from G&J. Check 'em out!

- According to an Oct. 15th update on IMDb, Punctured, the several-year-rumored Shari Hamrick vampire comedy has a new release date of 2011. So maybe it is still going to happen? We'll see.


More Goon info, a new CBS project announced, and a Gilda's Club benefit
________ October 29, 2010

Turns out Goon is based on a book. Fun! (Hollywood Reporter and the book on Amazon)
Update (11/6): MTV has some photos up from the film.

Very exciting news! Apparently that failed sitcom turned into a better deal with CBS for Eugene. Eugene and Martin Starr have signed on with CBS to produce and star in a new show, to be developed (a "blind deal," if you will). - Digital Spy - Hollywood Reporter

Also, Eugene and son Dan will be participating in the Toronto event, "It's Always Something" at Toronto's Princess of Wales Theatre on Monday, November 22nd. The event benefits Gilda's Club. More info here.

Shaping up to be a good fall!


Gnomeo trailer, Goon in Portage, and new Guest
________ October 23, 2010

Sooo...pretty sure Hitched was dumped. Such is the fortune of many sitcoms, I suppose.

Gnomeo and Juliet now has an official site up with a trailer. Release date is Feb. 11, 2011.

Recent news from Portage's Daily Graphic tells that Eugene will be on set for shooting of Goon, a film slated for 2011. It stars Seann William Scott and Liev Schreiber and appears to be a comedy about a bouncer-turned-hockey coach. There's info in the article if you'd like to be an extra for scenes shot on October 29th!

Also in current news...sources on the interwebs (wowowow.com being the first) say that Chris Guest is back to movie-planning, and this time around the film will focus on crazy collectors. Nothing's confirmed, but I'm psyched!


End of summer updates
________ August 22, 2010

Greetings! Apologies for the hiatus...a move during the summer and a new laptop caused a delay in the set-up of my website updating stuff, but it's all good now! Not too much to report on Eugene's end.

I can't really find anything about Hitched more than the previous spring buzz. Same with the next in-theatres American Pie installment, though it does exist on IMDb as 'in production' with a release date of 2012, so we'll see.

Elton John-produced Gnomeo and Juliet is slated for February 2011 release in Canada, the U.S. and U.K. Additionally, Cannibal Girls will now be available on DVD October 26, 2010.


Pie again, Cannibal Girls re-released
________ April 20, 2010

- Looks like Hitched is on CBS's pilot line-up for 2010-11.

- It appears the American Pie franchise is really going to try for in-theatres this time around with yet another installment, to be written and directed by Jon Hurwitz and Hayden Schlossberg (Harold & Kumar).

- One of Eugene's first films, Cannibal Girls, is currently having a limited theatre re-release and will be available on Blu-Ray (and I'm assuming DVD?) this June! (Check out some upcoming screening dates in Calgary here and a great article from cbc news.)

Happy spring!


Eugene to be in a new CBS sitcom, Hitched
________ February 25, 2010

CBS picked up a pilot sitcom, Hitched, and it was recently announced that Eugene will act as a regular, "a four-times divorced ladies man who always wears tracksuits." Get ready to see a nylon-clad Mr. Levy on your tube, folks!!

- cbc.ca

Also wanted to mention, Eugene was part of the the Canada for Haiti fundrasing event some weeks back.


ACTRA to honor Eugene this month
________ January 16, 2010

ACTRA, the Alliance of Canadian Cinema, Television and Radio Artists, a Canadian labor union for performers, will be honoring Eugene with an Award of Excellence next week on Thursday the 21st. It'll be taking place at the home of the consul general of Canada in Los Angeles.

Says ACTRA, "Mr. Levy has invested considerable time and resources giving back to Canada's film and TV industry. He has participated in countless charities and fundraising efforts, remains a committed and active Second City Alumni and is Chair of Telefilm Canada Features Comedy Lab."
- from actra.ca

Congrats, sir! (And happy 2010, everybody! Hope it's going well for you all so far.)


SCTV 50th Anniversary Reunion re-caps
________ December 13, 2009

A few good reunion articles and re-caps:
- metronews.ca
- Time Out Chicago
- Chicago Tribune

- Also, here's an interview from thestar.com with Eugene and Ivan Reitman at the Telefilm Canada Features Comedy Lab back in November.


New voicework announced, a Guest date in January, Pie links, and ribbon-cutting
________ November 7, 2009

- Good interview from The Globe and Mail about Levy's voice work. He mentions an upcoming voice role for a flamingo in 2011's Gnomeo and Juliet (on imdb here).

- Comprehensive interview from Moviehole, in which he mentions plans to get together with Chris Guest in January "to see what we feel like doing."

- The official Book of Love trailer and website and press release.

- Eugene was at the ribbon cutting of Famous People Players' new Toronto theatre.


More Astro-related press, SCTV panel news, and Twitter opinions
________ October 21, 2009



At the U.S. Astro Boy premiere in L.A., 10/19/09; AP/Dan Steinberg

- Eugene will be a guest on both "Today" and "Live With Regis and Kelly" this Friday morning, promoting Astro Boy.

More press!
- metronews.ca
- Canadian Press
- CTA.ca

- Commenting about Twitter:
Canadian actor Eugene Levy also says he's puzzled by the popularity of the service.

"You know, I almost bore myself when I say to myself, 'It's time to get the groceries,' I certainly don't want to put it out there for people to read," he told The Canadian Press in a telephone interview.

"It deals in a kind of minutiae that is just extremely, irritatingly boring to me, but I guess there are people out there who want to know what celebrities do in their off hours and there are other celebrities who just can't get enough focus and attention so they now Twitter this information out there. I don't get it."

Check plus, Eugene, check plus.

- Eugene's also slated to be on an SCTV panel during Second City's 50th Anniversary weekend, 11:30 AM on Saturday, Dec. 12th, 2009. Martin Short, Andrea Martin, and others are included. Tickets are $25 and go on sale tomorrow!


Nice article and Pie release change
________ October 19, 2009

- Saw this article today from kelowna.com, a nifty little interview with Eugene including some info about Astro Boy (wide U.S. release on Oct. 23rd, btw) and a few of his other projects. Nothin' too new, here:
"[Guest and I] might do another movie and a stage piece," he says. "Normally, we'd do one every three years, but we've taken a step back to let things ride for a little bit."

- Book of Love's release has been pushed to Dec. 22nd.


Second City reunion tix!, Astro premiere dates, and Pie blog
________ October 8, 2009

- Tickets are now on sale through Second City for the reunion show in Chicago, set for December 11th. Prices range from $175-$750.

- Astro Boy premiered in Japan on Oct. 5th and will be followed with a Hong Kong premiere on Oct. 17th and in LA with the English voice-cast on Oct. 19th.

- I've discovered a blog dedicated to updates about Book of Love, now slated for December 8th DVD release.


Letterman appearance soon
________ August 20, 2009

Eugene's scheduled for a spot on the Late Show with David Letterman, Tuesday August 25th, no doubt to promote Taking Woodstock. Check it out!


Full-length Astro Boy trailer
________ August 18, 2009

For your viewing pleasure!




Another SCTV reunion in the works, mentoring, and movie updates
________ August 5, 2009

Woookay, a mixed bag of updates for you.

- First, exciting news! SCTV is having another reunion, this time in Chicago, as a fundraiser for the SC Alumni Fund. It'll be at the theatre on Wells Street, Friday December 11th. Second City is celebrating its 50th anniversary this year and will have other stuff going on during the 12th and 13th as well. On board for the reunion: Joe Flaherty, Eugene Levy, Andrea Martin, Catherine O'Hara, Harold Ramis, Martin Short and Dave Thomas with special guests. Ticket prices haven't been announced, but I'll be on the lookout.

http://www.secondcity.com/50/
chicagotribune.com
examiner.com

- Eugene's going to be a mentor for the newly-formed Telefilm Canada Features Comedy Lab, an effort to get some quality Canadian comedy films out a few years from now.

nationalpost.com
sys-con.com

- Woodstock's been pushed back to an August 28th major release date, though selected cities will get it on August 14th. The movie premiered in NYC last week. The soundtrack (track list here) comes out August 25th.

- New stills from Astro Boy!


Woodstock Site Launched
________ July 1, 2009

Focus Features has an official site up for Taking Woodstock, which you can check out here. Eugene's got a Cast&Crew page, as well.

A reminder: the premiere will take place in Woodstock, VT on August 8th at Tinker Street Cinema, featuring director Ang Lee, screenwriter/producer James Schamus, and co-producer Michael Lang. Opens up August 14th after that!


List o' Tidbits
________ May 17, 2009

Hope all's well out there amidst the interwebs! A few bits and pieces for you.

- A reminder that Night at the Museum: Battle at the Smithsonian opens this Friday, the 22nd, which includes Eugene as Einstein.

- Behind the scenes videos from Book of Love taping here at movieset.com.
- K-Fed makes an appearance! Oy.
- This is just funny: bestweekever.tv.

- Some nice shots from Taking Woodstock, including one of Eugene as Yasgur, courtesy poughkeepsiejournal.com.
- Reviews from Cannes are mixed on Woodstock...still sounds good, though.


Punctured still exists? and a bit of Pie
________ April 22, 2009

Looks like Punctured is still floating around out there. According to Moviehole.net:

"Eugene Levy, Grace Park ('Battlestar Galactica'), Lance Henriksen and Jonathan Silverman are in talks to star in 'Punctured', a new Canadian comedy from writer/director Shari Hamrick."

And stuff about the new Pie from theupandcomers.com here.


Book of Love and Gooby news bits
________ April 10, 2009

The newest Pie is currently filming in Vancouver. Look out for ladies making out in your local mall, citizens. Looks like Tara Reid's back in for this one, too. (Probably the fact that John Putch of "Scrubs" fame is directing it...remember when she played JD's crazyface girlfriend?)

EDIT (4/15): JK about the whole Tara Reid thing. Looks like the deal fell through for her. But no worries...Wayne Newton, Sherman Helmsley, and Carrot Top are still slated! Yikes.

In other news, Gooby's officially released on April 17th and more dates are planned if all goes well. Check out the U.S. dates here; looks like Canada's aren't set yet.

EDIT #2: A good interview with Chris Guest over at The Province, including these bits:
"People don't understand the importance of Eugene and I spending six months just coming up with the story and the background lives of all the characters. It's a tremendous amount of work to create the skeleton for those movies. On top of that, once that's done, the cast are the best improvisors that are available, period, and if you don't have those people, you can't pull that off. You might as well not even begin."

But, as he said, he's got nothing planned for that ensemble in the near future.

"I do one thing at a time typically, and if an idea comes to me, then that will be the thing for the next two years that it takes to do it. The one other thing that's in a semi-pipeline is that Eugene and I are exploring the idea of doing Waiting For Guffman as a Broadway musical. We have begun talking with each other and we think it's a viable concept but it's not anywhere near ready to do."

In the pipeline folks, in the pipeline.


Taking Woodstock's first trailer
________ March 26, 2009

If you weren't psyched enough about Taking Woodstock yet, check out the newly released trailer below, which debuted on Demetri Martin's show this week.



Remember, it's coming out in August. Looks good!

- cinematical.com
- slashfilm.com
- broadwayworld.com


Guest trio on tour!!
________ March 2, 2009

Not much to do with Eugene, but HOLY CRAP this is awesome:
"Unwigged & Unplugged" spring tour with Christopher Guest, Michael McKean, and Harry Shearer!!
www.unwigged.com

UPDATE: Great interview with Guest from wired.com...

"Wired.com: There is talk that you are retiring from documentary spoofs, and perhaps film altogether. True?

Guest: Well, acting in a movie is different than directing and producing one. The first is like being asked to sit in on a jam session and the other is two-and-a-half years of my life. I've been semi-retired for awhile, and I don't have an agenda. I place a lot of value in the other parts of my life and I have things I love to do outside of my work, so I want time to do them."

Ok, I'm appeased.


Eugene on Strombo tonight
________ February 25, 2009

Canadian folks:
Eugene's going to be on The Hour tonight with George Stroumboulopoulos. Looks like there's a good chance the interview will be up on the website after the broadcast airs, for the rest of us.

The Hour's official website

UPDATE: Watch the interview here. He talks about his kids, John Candy, mentions the possible Broadway show, and dances around the idea of another Guest movie.


Pie: Book of Love announced
________ February 8, 2009

"AMERICAN PIE: BOOK OF LOVE

Canada's Eugene Levy heads to Vancouver this March for this direct-to-video sequel to the raunchy comedies. Levy, the only original cast member, will be making his seventh Pie."
- from canada.com

Guess it's not going to be in theatres, after all. ?


Interesting Guest-Related Forecasts from Jane Lynch...
________ January 27, 2009

In a recent MTV interview with Jane Lynch, a Guest cast regular, she says she hasn't heard anything from Christopher Guest about an upcoming film, which has led her (and Parker Posey) to predict he's done with movies...for good. Let's hope that's not true.

However, it sounds like the Broadway script that was mentioned by Eugene back in March of '08 (in the National Post; the article's no longer available) may be progressing into something very real. And it sounds like Waiting for Guffman is the one. Exciting!!


I would also like to say to MTV, who says that "this seems to be the first inside word that an adaptation is in the works:" SUCK IT!

We were all over that one, kids.
;)


Eugene featured on Steve Martin's new bluegrass album
________ January 10, 2009

That's right, he's reported to have played the guitar (or piano, by one source--I'm going with guitar) for the tune "Tin Roof," a track off his pal Martin's upcoming bluegrass album titled, The Crow: New Songs For The Five-String Banjo. It was produced by John McEuen and is slated for January 27th release, "available exclusively on Amazon.com for the first 90 days" (whee, monopolies).

The album includes 14 original songs and other guest musicians like Mary Black, Vince Gill, Dolly Parton, and Earl Scruggs.

Steve's going to be on SNL January 31st...let's hope for "Tin Roof" and a guest spot, yes?

- nationalpost.com
- USA Today


A Kishka holiday gift you!
________ December 25, 2008

The Recess Monkeys (John Candy, Eugene Levy, Rick Moranis) sing Chilliwack - SCTV


Have a fun holiday season, everybody!
-Jenny :)


Movie updates and goodies
________ December 7, 2008

- Astro Boy has a shiny new website, www.astroboy-themovie.com, which features the recently released teaser trailer. The animation looks beautiful, check it out.

- Gooby trailer here! Looks kinda scary!

- In a recent interview with cinemablend.com, there was this tidbit about the Guest crew:
"Fans of Fred Willard's work in the Christopher Guest films will be sad to hear that there's nothing going on right now with that team. Although Fred mentioned that he usually gets a call from Guest or Eugene Levy right when they finish an idea and want him on board, so there's still a chance we'll see something in the next two years or so."

- Pics from Night at the Museum 2 here!
UPDATE (12/19): Check out the new trailer at...HappyMeal.com ...Yeah.

- "Ang held this big good luck ceremony where he blessed the cameras and the crew, and we all lit incense. There I was, sitting next to Eugene Levy with a stick of incense against my forehead. It was kind of surreal." - Jonathan Groff, on shooting Taking Woodstock, quoted from BlackBook


ON DEC. 17TH, HAPPY BIRTHDAY, EUGENE!


Pies, Museums, Astro Boys, and Jane Goodall
________ November 6, 2008

Apologies to faithful Kishka visitors for my recent desertion of the site! Work life had consumed all my free time, but I'm back with new updates!

- The first: American Pie's back (yes...again), and this time, it's coming back to theatres. No details yet, but announced by Moviehole.

- Eugene's slated to play Einstein in Night at the Museum 2: Battle of the Smithsonian, headed for May 22, 2009 release, alongside the likes of Ben Stiller, Amy Adams, Owen Wilson, and pal Chris Guest among many other notables. Sounds fun!

- I really need to start keeping track of these things. Possibly a new Greg the Bunny DVD set is out ?

- Astro Boy now has a release date of Oct. 23, 2009.

- "On [Sunday] Nov. 16 at the Fairmont Royal York, the Jane Goodall Institute of Canada will partner with the Canadian Friends of Haifa University to host a fundraising dinner for Israel's first Roots & Shoots program." I'm familiar with some of the Roots & Shoots efforts in the US, and it provides a lot of support for involving youth in community service learning. The fundraiser is going to include Eugene, Dan Aykroyd, and Norman Jewison along with "others from the entertainment world." Very cool. For details: 416-972-9400 and article from cjnews.com.
- UPDATE: More info on the event from CNW.


- UPDATE: A lovely article about the New England filming and wrap-up of Taking Woodstock from The Berkshire Eagle.


Eugene's going to Woodstock
________ August 6, 2008

Hey, hope summers are going well! Here's a bit of exciting news.

Eugene has signed on to the new Ang Lee (Brokeback Mountain) and James Schamus project, Taking Woodstock, in which he'll play Max Yasgur, the owner of the farm that was the infamous festival's location. Demtri Martin (!) will play Elliott Tiber, whose New York motel served as the festival headquarters; the movie is based on his memoir. Imelda Staunton and Henry Goodman will play Tiber's parents, while the likes of Emile Hirsch, Liev Schreiber, Jeffrey Dean Morgan, and Paul Dano make up a fraction of the rest of the cast. The movie's release by Focus Features is for Summer 2009 (40th anniversary of the festival), while production starts later this month.

- imdb.com
- Variety
- monstersandcritics.com
- Broadway.com
- Playbill News


This is actually pretty exciting. And is sufficiently distracting from the projects that were briefly mentioned and have not yet surfaced (e.g. the Guest Broadway script, writing with O'Hara, Punctured...).


Aug. 21 EDIT:
Here are a few recent photos from the set in North East, NY:
from poughkeepsiejournal.com


Astro Boy Movie and Voice Cast Announced
________ June 16, 2008

It's just been announced that the classic manga comic Astro Boy (I know nothing about it, but apparently it's classic) is going to be made into a movie for 2009 release. CG-animated, the characters will be voiced by Eugene, Nicolas Cage, Donald Sutherland, Nathan Lane, and Bill Nighy.

"Set in futuristic Metro City, Imagi Studios' Astro Boy is about a young robot with incredible powers created by a brilliant scientist to replace the son he has lost. Unable to fulfill the grieving father's expectations, our hero embarks on a journey in search of acceptance, experiencing betrayal and a netherworld of robot gladiators, before he returns to save Metro City and reconcile with the man who had rejected him."
Whoa snap.

Some articles (they pretty much say the same things):
- SuperheroFlix.com
- Variety
- iStockAnalyst


The Promotion Cameo
________ June 13, 2008

According to this article from nbc10.com, it appears that Eugene makes a bit of a cameo as Seann William Scott's supermarket boss in the new Steve Conrad movie The Promotion. I was already anticipating the slighty-off comedy that stars John C. Reilly, Jenna Fisher (Office love!), and Fred Armison, but this seals the deal.

It's out in theatres already, but you may have to look a bit harder than normal since it's not in full wide release.


News Round-Up; Anti-Smoking PSA
________ May 29, 2008

She lives! Apologies for the lack of updates...I've been busy finishing up a Master's degree. Which I did! Go education!

So, here are the good ol' bullets to fill you in on a few of Eugene's happenings this month.
- The SCTV Reunion was a hit, of course. There's not a whole lot about it online, and there's no word about whether a recording will be released, but here's a couple of links worth looking at:
-Show and after-party review from Dave Pye. (Eugene didn't make it to the party, it seems.)
-Review from thestar.com.

- Nice pics from the GG Awards gala care of macleans.ca, including this one of Eugene and his kids:



- Eugene stars in an anti-smoking PSA that will be shown in movie theatres across Canada. Read the release here and watch the PSA at the Will Rogers Institute website.

- Not sure if this is new or not, but a DVD, Greg The Bunny: Best of the Film Parodies Volume 2 is available. Details here.


Congrats and Reminders
________ May 4, 2008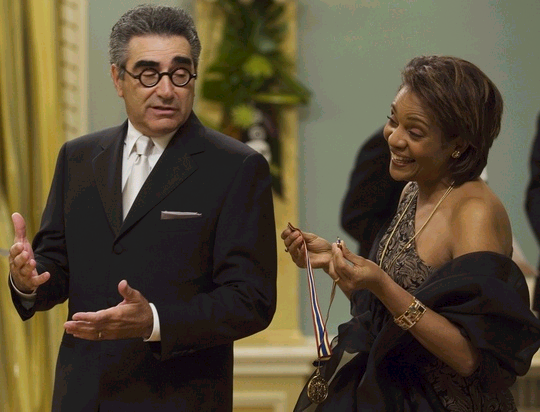 Eugene with Governor-General Michaëlle Jean at Rideau Hall in Ottawa, May 2.
© Fred Chartrand/The Canadian Press c/o globeandmail.com

"I'm feeling pretty damn good," Mr. Levy said at the pre-performance reception. "This is a really big honour and you feel the weight of this honour when you're actually here." (Ottawa Citizen)


Reminders:
- Tomorrow night, May 5th, is the highly anticipated SCTV Benefit of Laughter reunion show.
- National Arts Centre Orchestra's "Music and Humour with Eugene Levy" event is happening on May 10th. Recent info from OttawaStart here.

Also, here's a great interview and article with Eugene from The Candian Jewish News. (Thanks for the advertising, CJN!)

5/5/08 Updates:
- There is a second SCTV show tomorrow night, and some $250 tickets are left!!
- A new portrait by Sarah Lazarovic!
- Levy himself provided a satiric gem of a performance in a mock-doc made for the occasion where he insists, despite the doubts of the interviewer, that this is the third time he has received a Lifetime Achievement award from the Governor General, even claiming that Adrienne Clarkson took a taxi to his house to present one of the previous awards. hahaha


Martin Short reminisces
________ April 26, 2008

Hey all,

Martin Short reminisces over his longtime friendship with Eugene as the GG awards quickly approach! Some nice stories and tidbits in this one from The Windsor Star. (Such as: Martin once dated Eugene's sister Barbara, and Eugene is now a resident of LA right down the street from Martin. BFFs!)

Hope everyone is doing well this spring!

4/30/08 Update:
A lovely article about the upcoming SCTV reunion from The Canadian Press.


Update on GG Awards
________ April 5, 2008

Hey all,

A few updates here on the Governor General's award ceremony. It's been announced that the ceremony will be hosted by entertainer Gregory Charles, and Martin Short will be presenting a tribute to Eugene.

More info: "Ticket prices are $50, $60, $65, $75, $85, $150 available through the NAC Box Office (Monday to Saturday from 10:00 to 21:00) located at 53 Elgin Street in Ottawa, and through Ticketmaster (with surcharges) at 613-755-1111, or online at www.ticketmaster.ca. Major credit cards accepted.

For more information visit the Governor General's Performing Arts Awards Web site at www.nac-cna.ca/2008_ggawards/index.html or www.bce.ca/ggawards."

- Enter a drawing to win tickets here!
- Eugene's page on the GG website


Governor General's Award; Guest-Levy Work on Broadway!
________ March 13, 2008

It's been announced, Eugene will recieve an honor for Lifetime Artistic Achievement as part of Canada's annual Governor General's Performing Arts Awards. He'll be presented with the award at Rideau Hall on Friday, May 2 by Gov. Gen. Michaëlle Jean. (May's shaping up to be a busy month for Eugene...a national honor, SCTV reunion, and orchestra show all planned for about a week's time!) The whole affair will actually last three days, including a ceremony, dinner, and a performance gala (gotta love the galas).

This year, the others receiving the Gov. Gen. awards are: pianist Anton Kuerti, director and choreographer Brian Macdonald, playwright and arts advocate John Murrell, documentary filmmaker Alanis Obomsawin and Quebec rock star Michel Pagliaro. The award includes $25,000 and a commemorative medallion struck by the Royal Canadian Mint.

Levy's thoughts? "'I firmly believe my best work is still ahead of me so I'm not sure what this means,' he said in a telephone interview with The Canadian Press from his California home." (That is indeed good to hear.) "I think once the awards start rolling out your way, people are trying to tell you something possibly, but I'm not ready for retirement right now."

Hats off to you, sir!

NOTE!: "Tickets for the Governor General's Performing Arts Awards Gala on Saturday, May 3 go on sale to the general public as of March 17, 2008 at the NAC Box Office and through Ticketmaster, (613) 755-1111 or www.ticketmaster.ca."


links:
- National Post, with this exciting news: "It's a tough time in the industry because there are fewer movies being made. But Chris [Guest] and I are working on adapting one of our movies into a Broadway play, which is gratifying, and it's a direction that's really intriguing to both of us." !!! Which one are you hoping for?!
- thestar.com...a particularly interetsing interview with his thoughts on the awards, missing John Candy at the upcoming SCTV reunion, comedy films, Jack Benny, Gooby (he plays the villain), and the performance industry; check it out!
- cbc.ca
- Canadian news release
- canada.com


SCTV Live Reunion !!
________ March 6, 2008

This is Earl Camembert-worthy news, folks...for the first time in 24 years, the cast of SCTV is reuniting live on the Second City stage in Toronto! You read that correctly!

The event, titled "The Benefit of Laughter," is scheduled for one night only, on Monday, May 5th at 8 pm. Eugene, Martin Short, Andrea Martin, Catherine O'Hara, Joe Flaherty and Dave Thomas are set to be there, while Rick Moranis and Harold Ramis are attempting to find time as well. Women Fully Clothed and Colin Mochrie will also be part of the show.

Tickets aren't cheap--going for $250 (it's been mentioned these appear to be sold out already) or $500 (which includes an invitation to the cast reception)--but the money's going somewhere useful...and it is going to be an amazing show. The event will benefit the Alumni Fund, which helps Second City cast and crew alumni with health and/or money difficulties. (Second City will be holding similar events in the future in other SC cities, so keep an eye out if you're interested!)

"'I am thrilled to have this wonderful collection of Second City alums come home and support their colleagues and friends who may be experiencing some difficulties in their lives,' said executive producer Andrew Alexander."

Tickets are available online or through the Second City box office at 416-343-0011.

EDIT: It looks like it's already waitlist only. Call to be put on!


sources:
- globeandmail.com, SCTV players to reunite for Toronto benefit
- torontoist, SCTV Is On The Stage
- thestar.com, SCTV reuniting for a good cause
- The Second City - offical news


The Pie franchise...
________ January 27, 2008

Some cast continuity from movie to movie is important, Mr. Kornblau said, which is why the "American Pie" DVD spinoffs all feature Eugene Levy as a father figure -- even though the character's son stopped appearing after the series ended its run in theaters.

"We think he is crucial to this franchise because his character represents the heart of the movie," Mr. Kornblau said. "His presence reminds fans that we are maintaining the integrity of the franchise." (Mr. Levy declined to be interviewed.)

more from the Times here


Orchestral Humor in Ottawa
________ January 13, 2008

This summer, Eugene's going to be part of a family music show as part of the National Arts Centre Orchestra's children's concert series. The concert, scheduled for May 10, 2008 in Ottawa, will feature Eugene as the host, conductor Boris Brott, and the Les Sortilèges dance company. The show promises "a romp through the funny side of music," and who doesn't love a good romp? There'll be two hour-long showings (both bilingual, even), and there's going to be fun stuff to do if you show up 45 minutes before the concert starts.

Read more and grab some tickets (which aren't more than $20, btw!):
- NAC: Music and Humour with Eugene Levy
- The Ottawa Citizen: More about the concert series

In other news, Eugene's name in Gooby (which has recently wrapped filming) has been upgraded from "Mr. Fish" to "Mr. Nerdlinger." Muuuuch better.

(P.S. The site's been reorganized a bit, so take a refamiliarizing look around!)


Bids, Beta, and Birthday
________ December 14, 2007

- Bids on a LA lunch date with Eugene end TODAY...so hurry over if you have about $900 and you're interested.
- Bids on Eugene's crystal star for the Children's Wish Foundation of Canada close on Monday, the 17th.

- Beta House will be out on DVD on Sunday, Dec. 23th. (A Region 2 version has apparently already been release in the UK on the 10th.) Try to win copy of Beta House, or a PSP system, by entering here by Dec. 31st.

Happy early birthday wishes to Eugene, who will be 61 on Monday, Dec. 17th!!!


Get a sandwich with Eugene in LA
________ December 8, 2007

Popping in quickly to let you know about Eugene's latest charity opportunity. If you've got an extra $500 or so, bid and see if you can win a lunch date with the man himself! It's gotta be in LA, and the bidding ends on December 14th.

The money from the auction will go to Band of Parents, a nonprofit organization that raises money for research of neuroblastoma, "an aggressive cancer that forms in immature nerve cells and is diagnosed in about 650 children every year." (Article here.)

(By the way, Beta House's coming out on DVD soon.)


11/23/06 Late Show Apperance - Thanksgiving repeat
________ November 21, 2007

Just a heads up. Eugene's becoming a U.S. Thanksgiving tradition on late night: if you missed Eugene's interview with Dave Letterman on CBS's Late Show last year--which was on Thanksgiving--you can enjoy a rerun of it this year, tomorrow on Thanksgiving night (Nov. 22nd). The interview was during the For Your Consideration publicity stuff. (Has it really been a year? Wow.)


Holiday Decoration a la Eugene
________ November 19, 2007

News from CNW in time for the upcoming holiday season...the Toronto Eaton Centre is teaming up with Swarovski Canada, a fine maker of all things crystal, and some local celebrities to raise money for the Children's Wish Foundation of Canada.

"On November 22 at 6 p.m., host Justin Trudeau along with 2006 Canadian Idol winner Eva Avila, Santa Claus and a host of carolers will kick-off the festivities by revealing the third annual Swarovski Crystal Wish Tree, a one-of-a kind 35' (10.6 m) high and 20' (6.1 m) wide rotating tree adorned with 10,000 brilliant crystals." Go check it out! Apparently there are "a variety of activities designed to dazzle and delight" being planned. You know you want to be dazzled.

And twelve celebs, including our own Eugene (and even William Shatner, score!) are getting in on the good cause: "giant stars along with the celebrities' autographed headshot and signature card, including a holiday message, will be on display until December 17th. After which the stars will go to the highest bidder with 100 per cent of the proceeds going to benefit The Children's Wish Foundation of Canada."

Read more about the festivities here!
and if you win the auction for Eugene's star, I expect a photo of it proudly showcased on your front lawn. That'll show that stupid neighbor of yours with the blow-up lighted snowman.


P.S. Eugene's character in Gooby? Named "Mr. Fish."



---
Check out the News Archive for past info!